The Money Pit Ranch
A few of our Favorite Photos...Page 2

Chris (on "Prince") and Myself (on "Venus") back in 1992.
"Venus", was a 7/8 Arab mare, and was the first
horse I ever owned and loved.


"Angel" poses for pics with the clowns at an
Anuual Family Day that we were asked to bring
a few horses to that the local Paper Mill puts on.
These clowns just loved her!

"Here you go, I won't hurt you", says our
Grandson Darrell(almost 2 yrs in pic) to "Bay-B-Blue".


"Timmy" out for a run at his new home here in Canada!

Our Grandson Junior(age 3 in photo) saying,
"Playgirl, I looove you".

Junior,(age 4 in photo) picking flowers
for "Lyndsey", his favorite horse.

"Warrior" struttin' his stuff.

We were invited to bring some minis to an Open House
hosted by the Local Tourist center. The public loved them!
| | |
| --- | --- |
| Junior enjoying a ride on "Lyndsey" | Darrell meeting "Paleface" for the first time. |
| | |
| --- | --- |
| "Bear" the Great Pyrenees and "Cottontail" | "Cottontail", with our grandsons "Junior", and "Darrell" |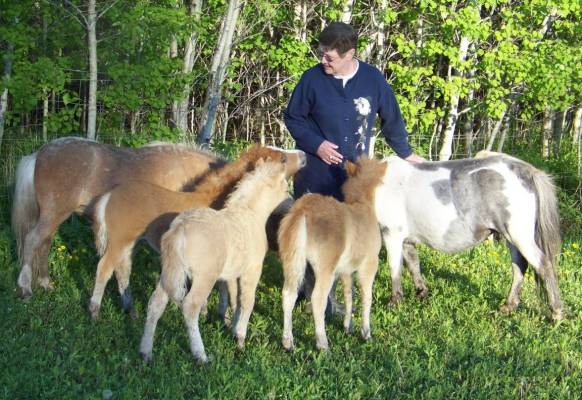 Our babies LOVE attention!!! Shown here is my Mom out in the pasture with some of the
horses gathered around her looking for their share of the luv'n!
More Photos - PAGE 1 / PAGE 2 / Page3
Home

Mona Stone
R.R.#1 Site 3, Box 13
Sleeman, ON. P0W 1M0
Phone:(807)488-5705

This page was last updated 08/16/18.