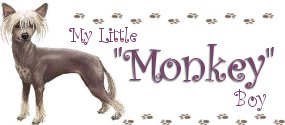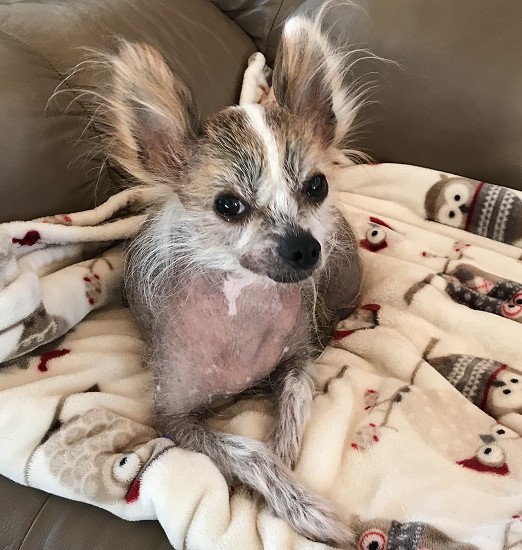 Whelped August 1, 2009.
Nicknames include: Bob, Handsome Bob, Robert, Roberto, Handsome Boy, Mama's Boy.
I have long wanted a Chinese Crested, and when I saw a picture of "Monkey", I knew I just had to have him, even though he is only 1/2 Crested, and 1/2 Chihuahua. With his Chinese Crested appearance (and bare skin), this is a breed that turns most people off but to me, it just made him cuter and more appealing!
Born on August 1, 2009, Monkey joined our family on October 2, 2009, at 9 weeks of age. He is what is known as a "slate spotted" in color. Monkey was neutered at just 11 weeks of age (minus a day), and I was kind of worried for him as that was the youngest I have ever had a pup neutered, but all went well. Monkey is a darling little boy, full of spunk, yet so happy and content to curl up in his "blankie" on my lap and snuggle in! He's very friendly and outgoing. Monkey matured bigger than we expected, at about 10 pounds, although he could SAFELY stand to lose a pound or two! ;-)
For faster loading time of this page, I have "thumbnailed" the photos.
Click on each photo to view it's larger version.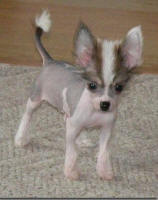 On September 8, 2010, at just 13 months of age, Monkey had bilateral knee surgery for his severely luxating patellas. This is an inherited condition see far too often in many of the Toy breeds. He had a total of 17 staples between his two legs. He drove the clinic staff crazy for the 4 days he was there, crying (for Mom and Dad) almost non-stop the entire duration of his hospital stay. He has been a real little trooper through his recovery. He had severe swelling that was causing him a lot of additional pain as the staples then slit his skin with the swelling. After the staples were removed, he has shown much improvement. We still have a few weeks to go yet though, until he can have free reign of the house and all it's obstacles again. He still cannot do stairs or jump up and down from furniture until he is given the go ahead from the vet at his 6 week post surgery check-up.
Shown above sporting his "pjs" so he could not lick his surgical incisions.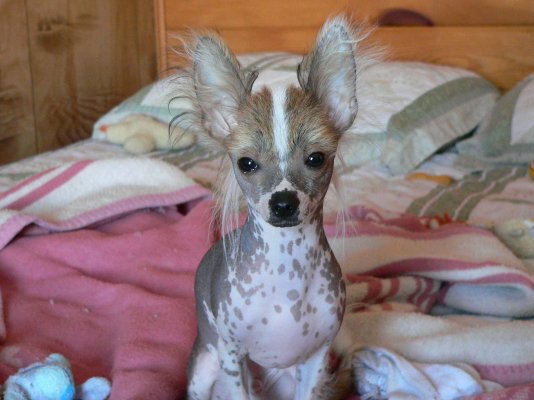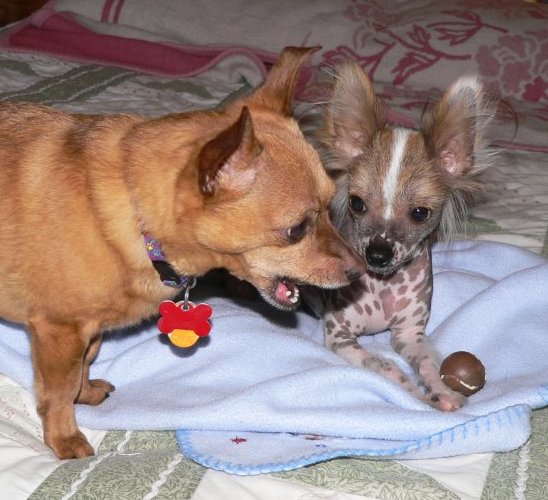 "Oh my, I think she means business!"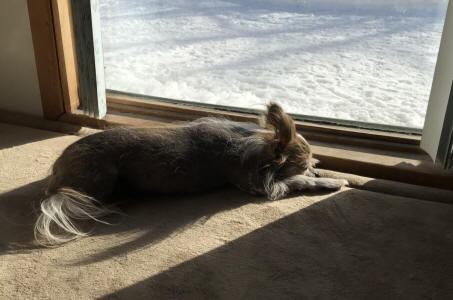 Please be sure to check back often to watch for updated photos of Monkey!

Please have your pets SPAYED or Neutered!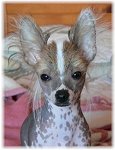 Click on Monkey's head above to go back to our Pets page

---
We are firm believers in, and followers of Spay/Neuter of pets!

This page was last updated on 05/04/18.